Helen Smith wint STOMP Independent of the Year Award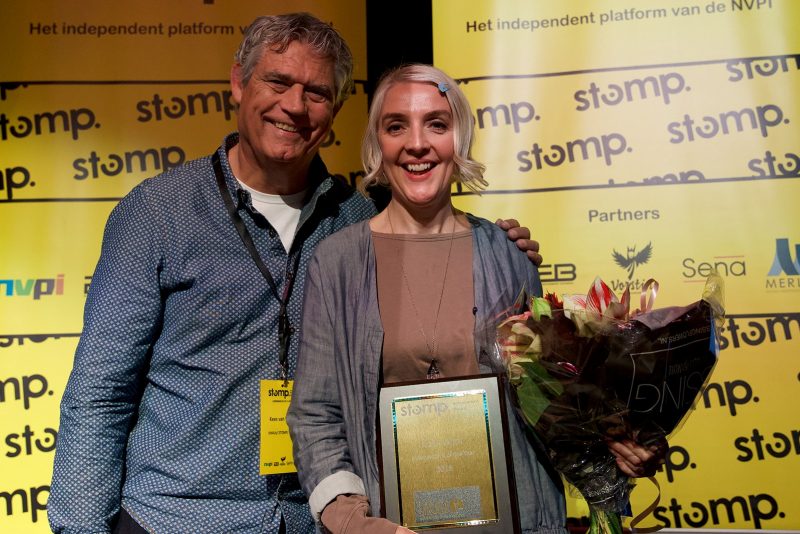 (scroll down for Dutch)
Hilversum, The Netherlands, 8th November 2018

STOMP is delighted to give its STOMP Independent of the Year Award to Helen Smith, Executive Chair of IMPALA – the Independent Music Companies Association – in recognition of her exceptional efforts to represent the independent music sector and help it grow. The award was handed out to her by STOMP's chairman Kees van Weijen in person yesterday during STOMP's Annual General Meeting.

Upon presenting Helen Smith with the award, the STOMP board noted in particular that "Helen is a driving force in the discussions on a new Copyright Directive in Brussels" and recognised her as "a strong captain for Europe's indies". The STOMP board trusts that she will go on to become "an even greater inspiration for young professionals in the music industry in the coming years" and further stressed: "She is one of the true examples of successful and powerful women in the music industry and we hope she will continue to claim that role."

Originally from Scotland, Helen has been leading IMPALA's work in Brussels for over 15 years, helping put thousands of independent music companies and artists on Europe's map by leveraging the collective strength of the sector. In terms of milestones, IMPALA has an impressive track record, from Europe's first ever class action court case on a merger to its tough stance on digital platforms who don't play ball, through to its numerous action plans and awards schemes for independent music.

Kees van Weijen, chairman of STOMP, as well as president of IMPALA, said: "Helen has been relentlessly carrying the torch for the independent sector with passion for over 15 years, making the voice of indies heard loud and clear on a wide range of political and commercial issues. Her achievements with IMPALA are remarkable and having her as the recipient of this year's award was a no-brainer for the STOMP Board. A recurring motto of Helen is: 'All artists are born equal and our job is to make sure that has meaning in the real world.' Her work is testament to that objective, and this is why she is receiving our award today."

Helen Smith commented: "I am honoured to receive this award, which I see as recognition of the efforts of the whole IMPALA office and of course our members' collective effort across Europe over the past decades. Every day we work hard to make sure that the voice of independents is heard loud and clear. Independents account for 80% of all new releases, they are world leaders in terms of discovering new music and artists and this should be reflected in market dynamics and political discussions."

The full jury report can be found HERE.

///

For more information about STOMP and the STOMP Independent of the Year Award, please reach out to STOMP's project coordinator Michel Peek through michel.peek@stichtingomp.nl or per mobile phone +31642771089
(Nederlands)
Hilversum, Nederland, 8 november 2018

STOMP is ontzettend blij om de STOMP Independent of the Year Award te mogen uitreiken aan Helen Smith, Executive Chair van IMPALA – de onafhankelijke koepel voor muziekproducenten in Europa – vanwege haar uitzonderlijke inspanningen bij het vertegenwoordigen van de onafhankelijke muzieksector in Europa en deze te helpen te laten groeien. De prijs is gisteren tijdens de jaarlijkse STOMP Ledendag in Poppodium de Vorstin aan haar uitgereikt door de voorzitter van STOMP, Kees van Weijen.

Als aanleiding voor het uitreiken van de prijs aan Helen Smith merkte de directie van STOMP met name op dat Helen een "stuwende kracht is in de discussies over een nieuwe Copyright Richtlijn in Brussel" en ziet haar als "een sterke leider voor Europa's independent labels". Het STOMP bestuur heeft er alle vertrouwen in dat ze doorgaat met het zijn van "een nóg grotere inspiratie voor jonge professionals in de muziekindustrie gedurende de komende jaren" en benadrukt: "Ze is een van de duidelijkste voorbeelden van succesvolle en krachtige vrouwen in de muziekindustrie en we hopen dat zij die rol zal blijven claimen."

De van origine uit Schotland afkomstige Helen geeft inmiddels 15 jaar leiding aan IMPALA en helpt in die rol duizenden onafhankelijke labels en artiesten op de kaart van Europa te zetten, door de collectieve kracht van de sector te gebruiken. Mijlpalen heeft IMPALA in overvloed opgebouwd in haar geschiedenis; Van Europa's first class action rechtzaak tegen een overname tot het vormen van een vuist naar digitale platformen die weinig ruimte voor onderhandeling gaven, tot aan de talrijke initiatieven en awards voor independents.

Kees van Weijen, voorzitter van STOMP en tevens president van IMPALA stelt: "Helen heeft de afgelopen 15 jaar weerbarstig en met passie de fakkel voor de independent gemeenschap gedragen door de stem van de indies luid en duidelijk te laten klinken bij een grote variatie aan politieke en commerciële kwesties. Haar prestaties met IMPALA zijn uitzonderlijk en het bestuur van STOMP heeft geen moment na hoeven denken over wie dit jaar de award zou moeten ontvangen. Een terugkomend motto van Helen is: 'Alle artiesten zijn gelijk geboren en het is onze taak om ervoor te zorgen dat dat iets betekent in de echte wereld.' Haar werk is een bevestiging van dat doel, en dat is waarom ze deze award heeft ontvangen."

Helen Smith reageert verheugd op de prijs: "Ik ben vereerd deze award te mogen ontvangen. Ik zie het als een erkenning voor het werk van alle medewerkers van IMPALA en uiteraard de gezamenlijke inspanning van alle leden in Europa gedurende de afgelopen tientallen jaren. Iedere dag werken we hard om ervoor te zorgen dat de stem van de independents luid en duidelijk gehoord wordt. Onafhankelijke labels zorgen voor 80% van de nieuwe releases en ze zijn wereldleiders in het ontdekken van nieuwe muziek en artiesten. Dit moet duidelijk zichtbaar worden in de dynamiek van de muziekmarkt en politieke discussies."

Het volledige juryrapport is HIER te vinden.

///

Voor meer informatie over STOMP en de STOMP Independent of the Year Award kunt u contact opnemen met STOMP's project coördinator Michel Peek door te mailen naar michel.peek@stichtingomp.nl of te bellen met +31642771089.